The New Mexico. The New Mexican President.
Left leaning populist elected in Mexican Presidential election.
Key Actors:
Andrés Manuel López Obrador (AMLO) – Incoming Mexican President
Andrés Manuel López Obrador, commonly referred to by his initials"AMLO," was born to two shopkeepers in the southeastern Mexican province of Tabasco. AMLO is a career politician, an ex-mayor of Mexico City, a veteran of two failed bids for the presidency, and the leader of one recently successful presidential campaign. In the previous two elections, he was the runner up for the presidency.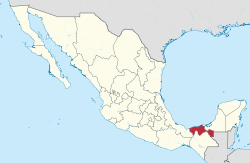 López Obrador is widely regarded as a wild card populist with socialist tendencies due to his fiery campaign speeches. He has pledged that his primary focus is to support and raise up the poor in Mexico. His anti-establishment views, and his constant railing against the supposed corruption of all the other parties save his own have inspired some of his political opponents to liken him very unflatteringly to President Trump in the USA. In AMLO's term as mayor of Mexico City, his leadership was regarded as pragmatic and efficient, which stands in stark contrast to the man presented on the campaign trail. It remains to be seen which version of AMLO will be the one to lead Mexico.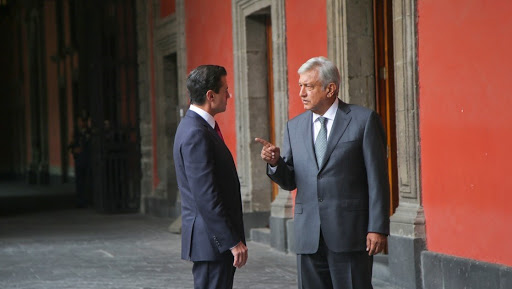 The Election In Hindsight
This election was dominated by the economic, social, and political crises within Mexico. Last year, more people were murdered in Mexico than ever before, which is a number even higher than when the government was launching military offensives against the cartels, who retaliated with indiscriminate brutality and violence. In the first few months of this year, the murder rate has been even higher than last year's. On top of this, the Mexican Peso has plummeted in value against the American dollar and the economy remains sluggish. To compensate, many Mexican companies are now exporting more; but with the NAFTA trade deal at risk, so too are all Mexican exports to its by far largest trading partner at risk. Large amounts of government corruption also came to light during the presidential campaign, with new scandals popping up at previously unseen rates. It is to this background of mayhem that AMLO's anti-establishment, tough on corruption, and pro-social reform platform secured him an indisputable victory.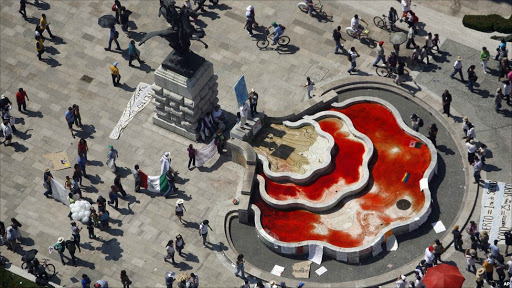 People walk next to a water fountain in Mexico City that is drenched in blood.
AMLO more than doubled the percentage of votes in his favor compared to the candidate with the second most votes. As the new president, he has promised to take personal leadership in tackling the issues of corruption and violence that plague Mexico, while also launching a campaign to reform the social systems that largely support the poor in Mexico. AMLO has promised that with him as president and with his new majority in both houses of government, he will immediately double the pensions of all low income Mexicans. All these new initiatives are theoretically to be completed without raising taxes, rather being paid for using the government money that is currently being lost to corruption.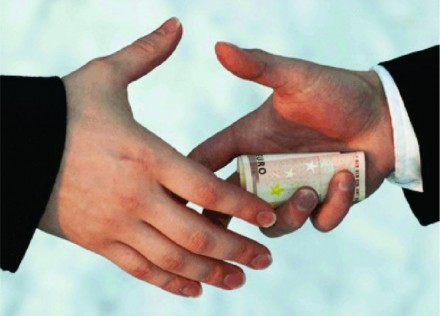 Statistics
Andrés Manuel López Obrador got 53% of all votes

Ricardo Anaya got 22% of all votes

José Antonio Meade of the incumbent party got 16% of all votes

AMLO won the majority of the votes in every province except for two, and those provinces were won by Ricardo Anaya.

25,000 people were killed in Mexico last year

130 political candidates and public servants were killed over the course of the election

Murder rates are up by 15% from last year.
Sources
Tuckman, Jo. "He Was Once Called a 'Danger to Mexico." Now He's Its next President." Vox, Vox, 4 July 2018, www.vox.com/world/2018/7/4/17532736/2018-mexico-presidential-election-winner-amlo-lopez-obrador-trump.
"Mexico Election: López Obrador Vows to Fight Corruption." BBC News, BBC, 2 July 2018, www.bbc.com/news/world-latin-america-44685614.  
"Mexico Election: López Obrador Vows Profound Change after Win." BBC News, BBC, 2 July 2018, www.bbc.com/news/world-latin-america-44677829.  
"Mexico Election: Polls Closing after Campaign Marred by Violence." BBC News, BBC, 2 July 2018, www.bbc.com/news/world-latin-america-44671462.